Free Wi-Fi throughout the hotel and hotel rooms
Free parking at the hotel
Green surroundings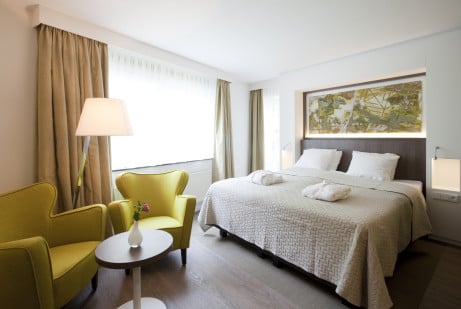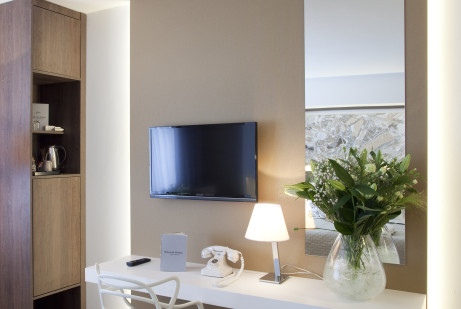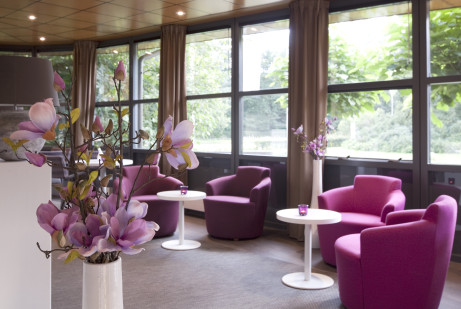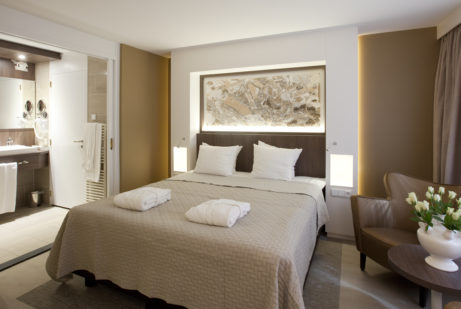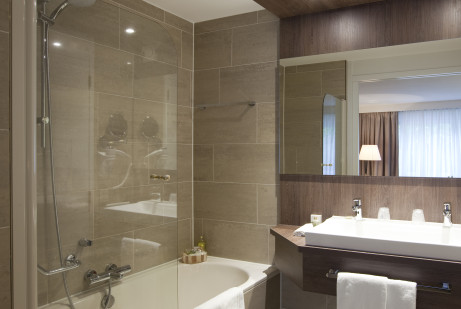 Boutique Hotel **** Auberge du Bonheur
Auberge du Bonheur welcomes you in our modern boutique hotel on the edge of the historic forest called the Oude Warande. Only four kilometres from Tilburg centre and within walking distance of Tilburg University, you will find the 36 modern four-star-plus rooms and studios. Each room is a unique reference to Tilburg's textile past, which makes Tilburg so attractive. The rich fabrics and the modern design rooms provide the business guests with a comfortable and quiet stay. The warm colours and design furnishings offer tourists a cosy accommodation. View the video clip below.
Hotel rooms
View our four-star-plus rooms at Boutique Hotel Auberge du Bonheur. In addition to our standard rooms, we have fully furnished luxury rooms with a roof terrace making a longer stay very comfortable. Any questions? We would love to tell you more about what Boutique Hotel Auberge du Bonheur can offer you.
Contact
Luxury room roof terrace
Boutique Hotel Auberge du Bonheur has 7 luxury rooms with a roof terrace suitable for a longer stay with all mod cons. Discover the many possibilities and privacy thanks to the fully fitted kitchenette, shower, washstand and toilet, air-conditioning and the roof terrace facing south with its own table and chairs.
Luxury room forest view
The beds in the 36 rooms of Boutique Hotel Auberge du Bonheur are all fitted with uniquely woven head-boards. The luxury forest view rooms are provided with a flat screen TV and private bathroom with washstand, toilet, bath and shower. Enjoy the natural colour shades, the forest view and the excellent service.
Standard room Auberge
For those who wish to stay in a comfortable room in Tilburg for a short period of time, Boutique Hotel Auberge du Bonheur is the perfect location. The stylish rooms with twin beds or double bed are provided with all mod cons. Enjoy the woody surroundings and its ideal location close to Tilburg centre, Tilburg University and exit roads.
Bridal suite
After an unforgettable wedding day you can spend a classy night in the romantic bridal suite of Boutique Hotel Auberge du Bonheur. The light colours with a warm silvery and golden finish are very stylish. Enjoy the comforts of an en suite bathroom with a jacuzzi!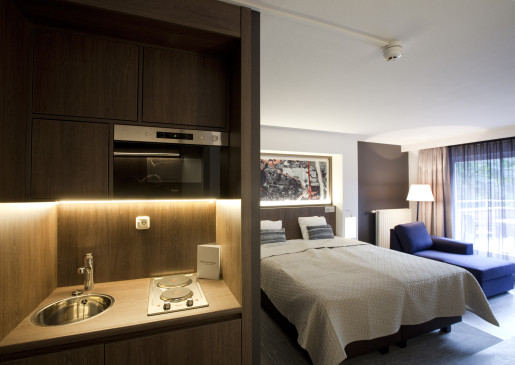 Complete experience
At Boutique Hotel Auberge du Bonheur you can stay in luxury and style. Your four-star-plus room is provided with flat screen TV and standard size box spring 180 x 210 cm. The table and chairs, mini bar, free coffee and tea making facilities enable you to have a luxury stay in your room. The next morning you will have a lovely and extensive breakfast buffet with local and fresh products. You can have dinner in the adjacent Auberge du Bonheur restaurant with its modern French cuisine dishes, prepared with our local Brabant products.
"The hotel is lovely and the staff very friendly. Despite its location on a busy road, the rooms are well-dimmed and very quiet. The Surprising Seven Dinner exceeded all expectations! A must!"
Hotel packages
Combine a luxury stay with a fantastic dinner or a nearby activity with one of our keenly priced packages. Have an all-in gourmet dinner after an active day playing golf at Prise d'Eau or a relaxed day at Spa Puur in Tilburg.
Spa Puur Packages from € 69 per person
Gastro Package from € 99 per person
Surprising Seven Package € 129 per person
Luxury Brabant Golf Package from € 119 per person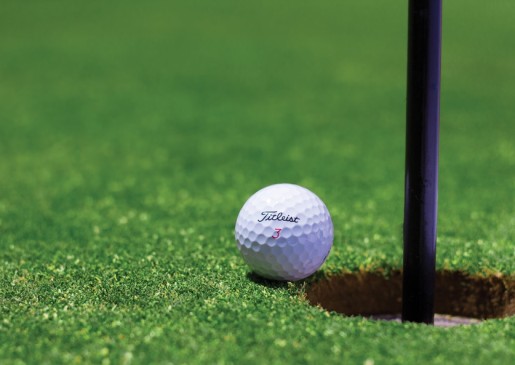 Free Bootcamp session
Are you a guest in our hotel? We offer you free Bootcamp sessions.
Bootcamp session, each Tuesday and Thursday from 19.00 – 20.00 hrs
professional trainer
Please inform the reception if you want to participate: 013-4686942, reception@bonheurhorecagroep.nl or whatsapp us on:
(0031) (0) 6-53426460
Collect from 18.45 hrs in the lobby of the hotel
Return in the hotel lobby with a free sport drink
Since we are just starting with this service, we would like to receive your feedback, please inform the reception about your wishes and experiences.
Attractions in Tilburg
Tilburg being an event city offers high-quality cultural attractions and organizes special events throughout the year as well. View the city event calendar for more information for a day or night out in Tilburg.
See & Do in Tilburg