BESPOKE WINING AND DINING
We would like to welcome you on any given working day for lunch or dinner with groups ranging from 2 to 80 guests at the Faculty Club. An informal walking dinner or an extensive buffet are also possible. In addition, in summer we can offer fantastic barbecues. Let us know what you like, so that we can tailor your event. The Faculty Club is not only a great location for your lunch or dinner, but also for all kinds of other celebrations..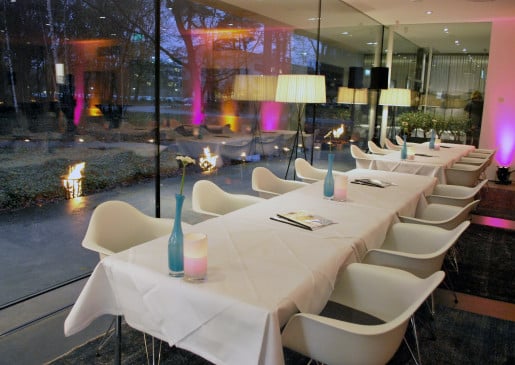 "Excellent meal (walking dinner), finely tailored to our requirements, friendly staff."
Lunch
At the Faculty Club you will take the time to have fresh and wholesome products from our menu. At a location where nature and architecture blend, you will get a fresh look on matters during lunchtime.
Dinner
Experience the cutting edge of working and relaxing versus serene nature and invigorating campus at a special location like the Faculty Club. Have dinner after your meeting in this architectonic work of art and its garden and terrace.
GROUPS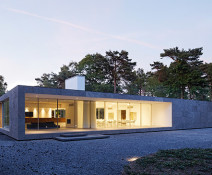 You can make use of our special buffets and menus for groups from 6 persons. Combine starters, mains and desserts or have our chef surprise you with the day specialty. If you wish to check our menu in advance, please ask for our menu of the day. checkout menu >
Walking Dinner
A walking dinner is a perfect choice when you are a large group or if you wish to have a different kind of exclusive dinner. In an informal setting with high tables and seats, your guests can have lovely drinks while we serve small dishes. It is entirely up to you how extensive you wish your dinner to be. You can have as many as ten different courses. Of course these dishes vary with the season and our chef will always make appropriate suggestions.