Dinsdag 12 november

8°
Kom een kopje koffie drinken op ons terras?
Auberge du Bonheur
Auberge du Bonheur in Tilburg offers you a lot of possibilities to celebrate and meet each other no matter what the occasion is, varying from just a random weekend in Tilburg with a stay in the four-star hotel to a fully arranged business meeting. You can always rely on a bespoke realisation of top quality with excellent service at an attractive rate. Come and enjoy a place full of character, splendidly located in green surroundings.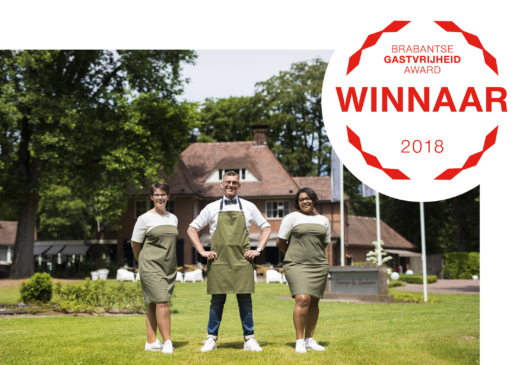 Gourmet dining
Cuisinier Ralph Blaakenburg cooks gourmet meals in our à la carte restaurant. Auberge du Bonheur is recommended in gastronomy guide GaultMillau and the prestigious LEKKER 2019 guide, the ranking of Holland's 500 best restaurants. At Auberge du Bonheur we keep looking for possibilities to use locally grown products .
Luxury rooms
Spend a luxurious night in one of the 36 modern four-star-plus rooms and studios of Boutique Hotel Auberge du Bonheur. All rooms are individually designed and each room is a unique reference to Tilburg's textile past. The recently refurbished rooms are provided with all mod cons and are beautifully furnished with rich fabrics boasting luxury.
"Cuisinier Ralph Blaakenburg knows what he is doing and the young, enthusiastic and passionate restaurant staff make sure that all the guests can have a very pleasant evening dining out. A more than well-deserved recommendation."
Rich history
Auberge du Bonheur in Tilburg has been situated in a magnificent pre-war manor with a rich family history since 1986. Inside it is full of character and the authentic details, combined with luxury furnishings and mod cons guarantee a unique experience. For both private and business purposes you can thoroughly enjoy a splendid stay. > Read More